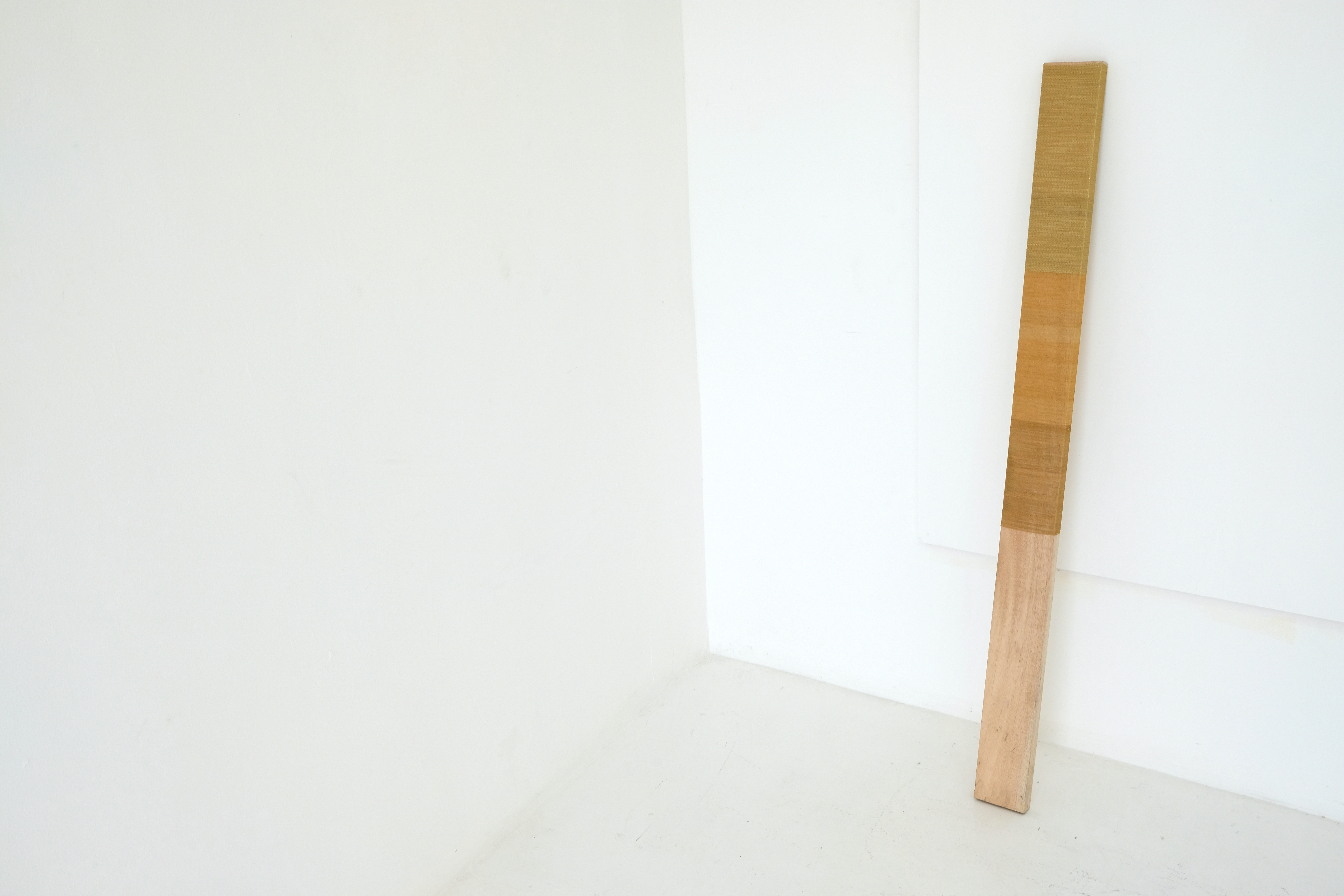 Abacus
Gold-filled and gold-plated chains, brass hooks, wood
154.9 x 11.4 x 3.8 cm / 4.5 x 1.5 x 61 in
2019-2020


Abacus assembles necklace chains from different works in 2019. It was first assembled for and exhibited as one component of the project Intro, outro, bridge shown at the U.P. Vargas Museum. Its form is determined by function: each line/loop measures 12 inches around that if counted would tell the length of the combined chain, and is also a spool that organizes the material and makes space for possible additions from future projects/spaces. Its height is my height.

First was A neck or a wrist shown as part of a group of work at Goethe-Institut in Hong Kong. The amount of "gold plated" chain from Taobao was determined by the production budget. The chain was hung from the ceiling to the floor inside a black box/screening room, looped vertically hundreds of times, a stalactite.

A second iteration of A neck or a wrist was installed at Calle Wright, Manila using gold-filled chain – the variant closest to pure gold. Hundreds of feet traced the perimeter of the two-storey house, charting all rooms and all corners, encircling the space as a closed shape. It was installed, filmed, and removed, and the resulting video presented for the exhibition.

Part of the chain that encircled the house was then used for Who weighs devotions, another video shown in the Calle Wright exhibition. It shows a makeshift wooden stand framing a handmade mesh constructed with the necklace chain, installed in the backyard of the house I've lived in all my life, a portal between the two houses.

Jack of Golds
Group exhibition organized by Wipo
Blanc Gallery, Quezon City
July 4-22, 2020
Photos courtesy Blanc Gallery